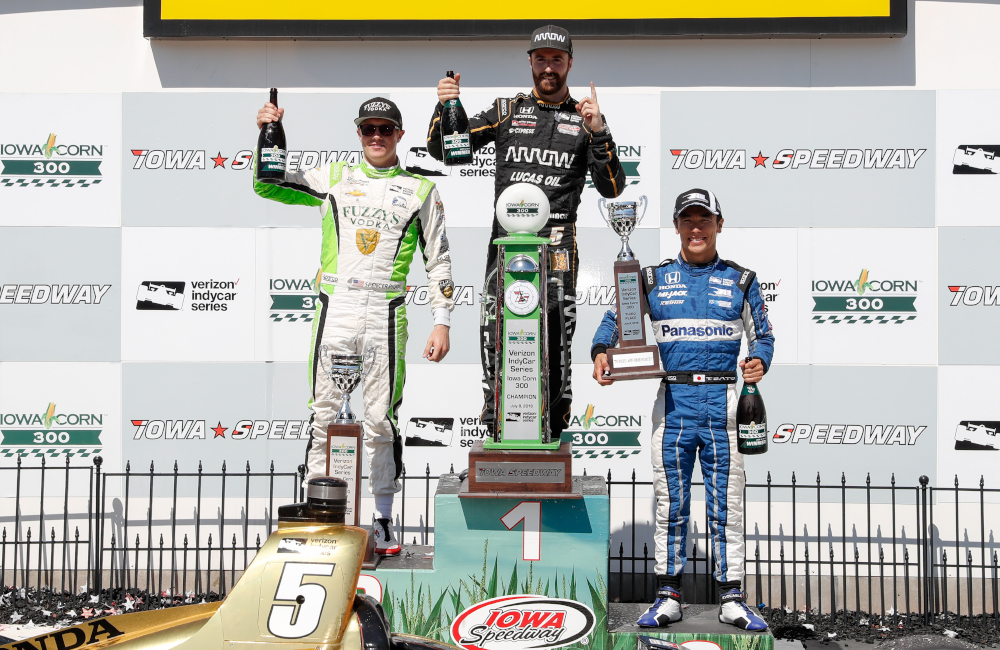 Iowa Corn 300 Recap
INDIANAPOLIS (July 10, 2018) – Rising Star Racing's (RSR) Spencer Pigot secured his first-ever podium finish in the Iowa Corn 300, this last weekend.
Pigot appeared to be a serious contender in the first of two practice sessions at Iowa Speedway. He was sixth-quickest in practice and moved into qualifying with meager results.
"It was definitely tricky. [Earlier Saturday], we had a pretty good run and I was really happy with the Fuzzy's Vodka car," Pigot said. "I was struggling with front grip and also with rear grip on both ends of the track…"
Pigot would go on to qualify in the 18-position for the Iowa Corn 300. He would later dominate the Iowa Corn 300, contending in the front most of the race.
"What a race. Right from the get-go, we had a good car based on how we were getting through traffic," Pigot said. "It feels great. My first podium in IndyCar, hopefully, the first of many."
Art Wilmes, RSR's Founder and CEO, is elated by Pigot's accomplishment.
"After his family, I may be the biggest 'Spencer Pigot' fan," Wilmes said. "I have never questioned his ability or talent and knew that this moment was within reach and was likely to come, sooner-rather-than-later."
Wilmes signed Pigot to RSR in 2014. Pigot at the time, was competing in the Mazda Road to Indy (MRTI) Series. MRTI is a driver-development series that prepares competitors for IndyCar.
"I started RSR to help young-talent like Spencer," Wilmes said. "This is a much-earned accomplishment and I look forward to Spencer carrying this momentum to Toronto this next week. He has been very, very good there when he competed in MRTI."
With his second-place finish, Pigot improves to the 14thin point-standings. He now has 211-points on the season and is just 11-points away from Chip Ganassi Racing's Ed Jones, who has 222-points.
As for Newgarden, he dominated the Iowa Corn 300. He was the fastest in the first practice session of the weekend and qualified second.
He led 229-laps out of 300; however, with a few late race accidents, Newgarden finished the race in the fourth position.
"What a bitter pill for Josef!  Final result certainly did not reflect his dominance during the weekend, Wilmes said. "I expect him to channel his disappointment in Toronto.  We look for a quick bounce-back."
Newgarden who is now in second-place overall in the point-standings is just 33-points behind the series leader, Scott Dixon with Chip Ganassi Racing.
"This is IndyCar racing. You have to expect the unexpected," Newgarden said. He went on to add, "Sometimes you can't predict exactly what you're going to need at the end of these things. Today, we didn't have exactly what it was that we needed; but, we will come back and try it again."
Pigot and Newgarden will compete this coming weekend in Toronto. To learn more about the Iowa Corn 300 visit, www.indycar.com/stats.