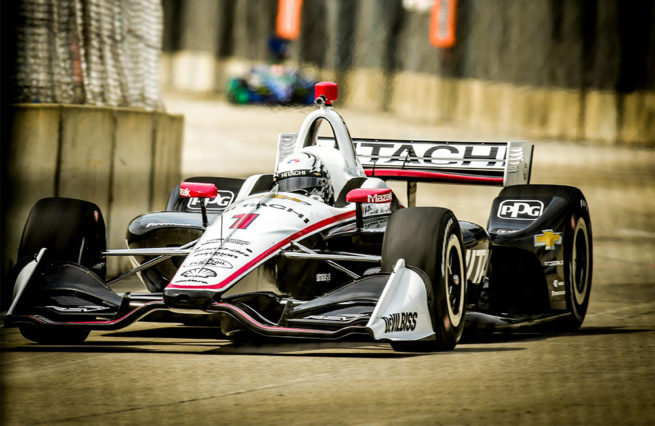 Chevrolet Detroit Grand Prix, presented by Lear – Advance
INDIANAPOLIS (May 31, 2018) – Rising Star Racing's (RSR) Josef Newgarden and Spencer Pigot will compete this coming weekend in the Chevrolet Detroit Grand Prix, presented by Lear.
Newgarden and Pigot are set to battle the 2.35-mile, 14-turn street-course at Belle Isle Park on Saturday, June 2 and Sunday, June 3 in this season's only dual-contest weekend.
"There are some years that you kind of wish the weekend after Indianapolis was off because it's such a long time away from home; but, this year is a bit different," Newgarden said.
The Chevrolet Detroit Grand Prix, presented by Lear will be the third consecutive week of competition for the Verizon IndyCar Series.
"The Indy 500 is a big deal to everyone in the field, but Detroit is a huge deal to Team Penske as well. You know the effort Roger (Penske) has put into this race and this city, with the help of Chevrolet," Newgarden added. "I'm really looking forward to seeing what new things have been done to the island since last year, it's really a unique place."
In 2017, Newgarden finished fourth in the first race and 10th in the second race.
Art Wilmes, RSR's founder and CEO, is determined Newgarden and Pigot will have shared success.
"Between the IndyCar Grand Prix and the Indianapolis 500, we've barely had a chance to take a breath," Wilmes said. "But, I am confident in Josef and Spencer's talents that they will both have a great weekend in Belle Isle."
As for Pigot in 2017; he finished 10th in the first race and 21st in the second race.
"Detroit was my first race with Ed Carpenter Racing in 2016, so it's almost an anniversary to go back there," Pigot said. "I enjoy the challenges of Belle Isle and I'm excited to have the chance to race there again."
Wilmes later adding, "The dual-contest in Detroit is high intensity and it's really fun to watch. I am excited to watch Josef and Spencer battle it out."
The Chevrolet Detroit Grand Prix, presented by Lear will be broadcasted on ABC; with coverage, beginning at 3:30 p.m. (ET) for each race.
In addition to the television broadcast; both, races will be broadcasted by the Advance Auto Parts IndyCar Radio Network, Sirius 214, XM 209,
IndyCar.com
,
IndyCarRadio.com
and on the IndyCar Mobile App.