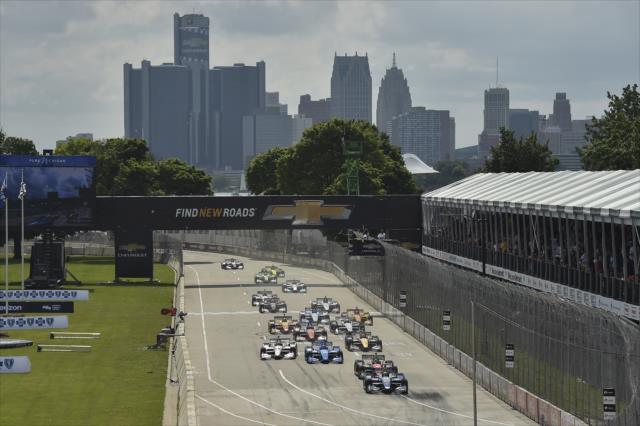 Chevrolet Detroit Grand Prix, presented by Lear
INDIANAPOLIS (June 6, 2018) – Rising Star Racing's Josef Newgarden (Team Penske) and Spencer Pigot (Ed Carpenter Racing) competed this last weekend in the Chevrolet Detroit Grand Prix, presented by Lear, dual.
On Saturday, June 2, Pigot qualified just outside of the top-10, in 12thposition, for the weekend's first race.
"Overall, it was a pretty solid race for us. We made improvements throughout the weekend and we were able to move up during the race," Pigot said. "It was nice to get our first top-10 finish of the season. I feel like it should have come a lot earlier; but, hopefully, this can be the start of a good string of results for us."
Pigot would go on to finish the first race in the 10th position.
Art Wilmes, RSR's founder and CEO, is proud of Spencer's accomplishment.
"Spencer has really adapted to a really tough race track since he debuted here," Wilmes said. "He had a good first race given how this race course seems to favor the Honda power plant."
Newgarden struggled in qualifying for the first race, qualifying in 14th and finishing in 9th.
"That was a lot of work for a ninth-place finish. This place really takes it out of you," Newgarden said. "We really want to do well here in 'our' backyard; but, we just didn't have enough here today."
On Sunday, June 3, Pigot qualified 15th for the second and final race of the weekend. Pigot suffered early contact from Santino Ferrucci; forcing him out of the competition 21-laps into the race.
"It wasn't just a spin, I got hit from behind by Santino (Ferrucci). First, we banged wheels, then he just kind of punted me in turn-5," Pigot said. "It is very disappointing to end the race this way."
Pigot finished 23rd and is now 16th in the points standing, with 128 points. He is 181 points behind the points leader, Will Power (309).
Wilmes accepts the course's challenges; and supports Spencer.
"It's a frustrating feeling; Spencer, has been working extremely hard," Wilmes said. "Not the end of the weekend he deserved."
With inclement weather Sunday morning, Newgarden qualified 19th.
"It was a rough day. We did what we could and we fought hard; but, just didn't come up with much from a results standpoint," Newgarden said. "It's a tough pill to swallow, but sometimes you have days like this."
Newgarden finished 15th and is now 5th in the points standing, with 270 points. He is 39 points behind teammate and points leader, Will Power (309).
"I am not worried that this weekend's results will impact the final result at the end of the season," Wilmes said. "It may influence it, but it won't impact it."