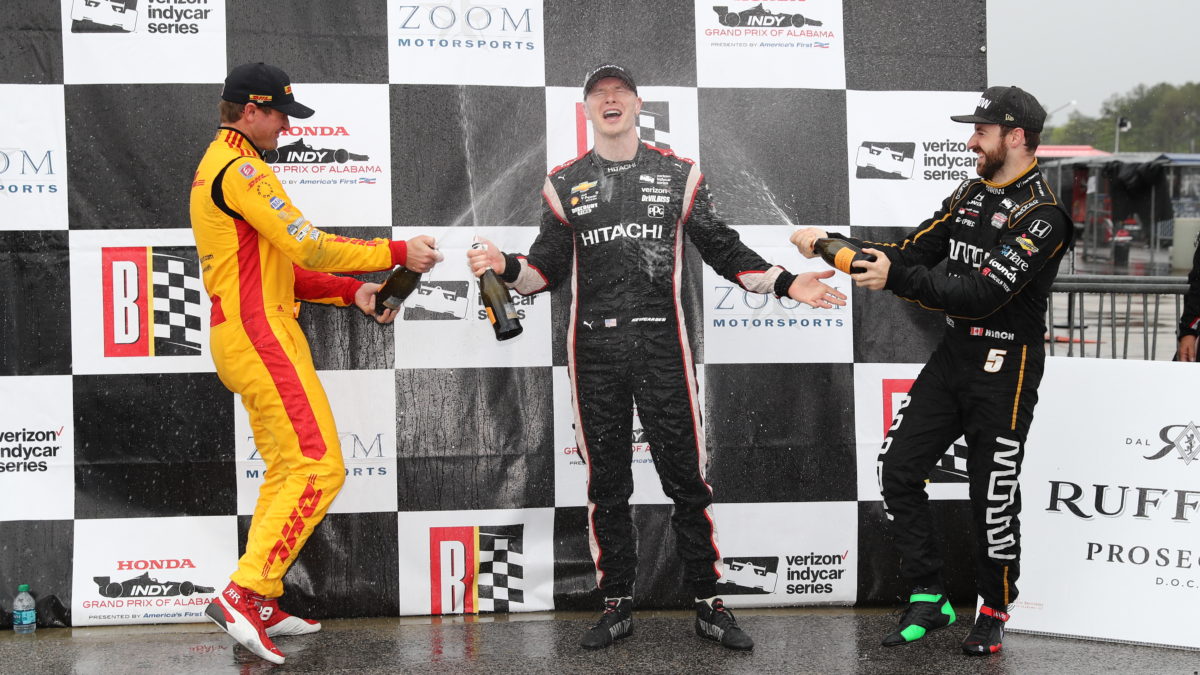 Honda Indy Grand Prix of Alabama Recap
INDIANAPOLIS, Ind. (April 25, 2018) – Rising Star Racing's (RSR) Josef Newgarden secured a back-to-back victory at Barber Motorsport Park; his second victory of the 2018 Verizon IndyCar Series and fifth win out of the last 10 IndyCar races.
Newgarden's victory marked his third win at Barber Motorsport Park – an accomplishment that no other IndyCar driver has been fortunate enough to secure in the series' nine years of competition at Barber. Newgarden improves to first-place in point standings.
RSR's founder and CEO, Art Wilmes, believes Newgarden's victory is yet another testament to his aptitude.
"Josef qualified on the pole and maintained that position for much of the race. He's been a force to be reckoned with on the track this season," Wilmes said. "The weather didn't cooperate for much of the weekend; but, I believe that, that's what added to the moment and ultimate win."
Newgarden was satisfied with the weekend, offering compliments to his team and fellow competitors.
"That was more eventful than I would have liked. But everybody did a great job," Newgarden said. "It would seem like smooth sailing for the most part, we didn't have any yellows, which we were hoping no yellows today, but then the rain crept in. I couldn't believe how long everyone stayed out. It was really risky what they were doing, but I understand why there were doing it. I'm glad we made the call to come in so soon."
In addition to Newgarden's victory, RSR celebrated a first — a 'P1' and 'P2' positioning, in the second practice session on Friday. Newgarden finished first and Spencer Pigot finished second as the two went into Saturday's qualifying.
"It was a very special moment for RSR, and one I would love to see repeated throughout the season," Wilmes said. "Unfortunately Spencer had some handling issues during qualifying on Saturday."
"It was definitely a difficult race out there. We thought we were making up some ground by pitting early and running hard, which seemed to be working a bit. We tried to gamble at the end to stay on slicks. We were hoping for a yellow that the race would end under and we could stay up where we were," said Pigot. "Unfortunately, that didn't happen and I just tried to keep it on the road the best I could. Eventually, it just got too wet and we had to come in at the end. There are some positives to take away from this weekend, we're going to take those into the IndyCar Grand Prix and hopefully be back up front."
Wilmes adding: "The ECR strategy had him in the top six late in the race, but the late rain literally doused his chances for a great finish. Circumstances will turn around for him soon and he will be running up front this season, no doubt."
Ahead of the Indy Grand Prix, Pigot stands 15 th in points.
The Verizon IndyCar Series will resume competition in two weeks as the series prepares for the Indy Grand Prix and the Indianapolis 500 at the Indianapolis Motor Speedway.